---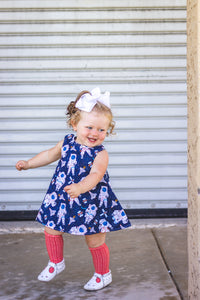 Astronaut Reversible Dress
When Kaleah grows up, she wants to be an astronaut!
All of the prints at Sew Much Cooler are truly unique and make her feel special. Watch her dance down the street in an original space print. I promise she will receive loads of compliments! 
There is no such thing as "boy fabric" or "girl fabric" over here. Follow us on Instagram and Facebook for the latest updates on available fabrics.
---
Fox 29 Interview - Color Me Skirts
---
A handmade collection of children's clothes by Lindsay Gradel in Ambler, PA. Sew Much Cooler is all about expressing your style with unique prints on classic silhouettes. Visit www.sewmuchcooler.com